Please follow and like us:
About Romania
Before describing you the locations where you can play golf in Romania l'll start with a short introduction
about Romania.
Romania ,,România" is located in Southeastern Europe. It borders the Black Sea, Bulgaria, Ukraine, Hungary, Serbia and Moldova. It has an area of 238,391 square kilometres (92,043 sq mi) and a temperate-continental climate.
With over 19 million inhabitants, the country is the seventh-most-populous member state of the European Union. Its capital and largest city, Bucharest is the sixth-largest city in the EU, with 1,883,425 inhabitants as of 2011.
.
Where to play golf in Romania
The history of playing golf in our country is tightly connected to the Royal Family, the first strike/swing from Romania is dated 1929 and it belongs to King Ferdinand I at the opening of the Country Club, also known today as The Diplomatic Club.
The first woman to play golf was Queen Mary. The first professional golf player from Romania was Paul Tomita, who participated in 6 world championships, this being considered an unique performance for our country.
At the moment Romania has 8 Courses: The Diplomatic Club, Tite Golf Resort Club, Kings Land Country Club, Lac de Verde Golf Club, Selas Golf & Polo Club, Sun Garden Golf & Spa Resort, Transilvania Golf Club and The Paul Tomita Golf Club which it alone has 18 holes. Two more golf courses are being built, one near Sibiu and another one near Alba Iulia, thus making Transilvania a region worth visiting by the golf passionate players around Europe.
Lac de Verde Golf Club

Golf is a lifestyle and the mission of Lac de Verde Club, wanted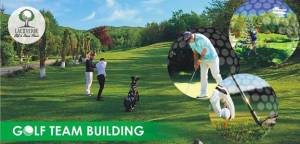 right from the start to be the initiator and promoter of a culture for this sport in Romania. Golf is a sport both for the strong solitaires, as well as a family sport, a sport for friends, a way of socializing, in a unique natural landscape.
Lac de Verde Club is designed accordingly to specific standards, spanning over 24 acres of land. The course is appreciated by both beginners and advanced players and is a natural subalpine one.  With short distances, having 9 holes and an index of 58 pars. It is considered a high difficulty level course, namely 8/10.
Because of this characteristics, the course is coveted by both advanced and beginner players, the latter having training area at their disposal: two putting courses, a training bunker, a pitching field, chipping, practice putting green, indoor golf and a modern Driving Range, equipped with 6 practice stands and a ball dispenser. Green fee prices are: for 9 holes: 100 Ron ( 25 euro ); 18 holes: 150 Ron ( 35 euro )
Attractions of the area:
SanConfind: a private base for complex treatments and recovery, plus wellbeing procedures: hydraulic massage, thermal water, salty swimming pools, herbal bath. It is situated 7 minutes from Breaza, in Poiana Campina. 
Sinaia – at just 25 minutes' drive has a variety of sightseeing from Peles Castle, monasteries, beautiful parks, as well as  diversity of culinary retreats and most comfortable hotels. 
For any further information, or to book your event at the Golf Club, please contact our Golf & Events Manager, Alexandra Popescu, that is with the golf club for over 10 years, and has a hospitality industry background started with Glion Institute of Higher Education in Switzerland, and more than 16 years in the field. Email: alexandra.popescu@lacdeverde.ro; 0040733 359 202 –  www.lacdeverde.ro
.
Diplomatic Club – Bucharest
DIPLOMATIC GOLF CLUB is placed in HERASTRAU Park since November 1928. It is developed as a 6 – holes golf course being the oldest Club in Romania opened by Prince Nicolae and Queen Maria of Romania – www.clubuldiplomatic.ro
Here is activating now Demis Papillon Golf Academy, the only Golf Performance Center as part of Gary Edwin golf schools representative in CEE.  Demis Papillon is Romanian citizen Golf Professional with 35 years of experience in Australia and USA. www.en.demigolf.ro
It is now a 6 holes' golf course still preserving the shaping made in 1928. Guests can play a round of (6 x 3 times) 18 holes with a green fee of 140 RON (35 EUR) during week days and 210 RON (45 EUR) in weekend days. Tee time booking at office@demigolf.ro
.
GolfRoom
The only golf simulator in Romania is located in Bucharest and the mission according to their website is to create the best in-city indoor golf playing and practice experience, accessible year-round.
GolRoom is using the best equipment on the market for indoor golf where golfers can improve their game, solo or with professional trainers, play with friends and participate in tournaments.
Price: 35 Euro for 18 holes
Contact: hello@golfroom.ro I http://golfroom.ro
.
Bucharest sight-seeing
During warm weather season, you can take a bus tour with Bucharest Hip – Hop. You will find the Bus stop – "Free Press Square" or "The Village Museum" 
As part of the tour: Herăstrău Park; The Arch of Triumph; National Village Museum; Victory Square; 1989 Revolution Square; The Palace of the Parliament; CEC Bank Palace; Union Square; Bucharest University Square; The Roman Square; Charles de Gaulle Square.
Accomodation:
Bucharest Pullman Hotel I Crowne Plaza Hotel I Ramada Park Hotel
..
Selas Golf & Polo Club
On the national road, when you go from Bucharest to Ploiesti, after about 35 km you enter the village of Potigrafu. At the first intersection in Potigrafu you make a U turn and head up to Bucharest. After you exit Potigrafu, about 100 meters on the right side, there is a parking sign and a white pole which has written on it SELAS Golf&Polo. There you make a right turn on an asphalt road that drives you in front of the club.
The 18 holes course beautifully designed by Henric Lund and the proximity to Bucharest, Romania's capital, should put SELAS on the top of your preferences when it comes to golf in Romania.
 Feel free to contact them and pay a visit.
Prices: 100 Ron ( 25 Euro ) for 18 holes  Contact: George Luta Golf Instructor: 0726 290 305; contact@selas.ro
Stejarii Driving Range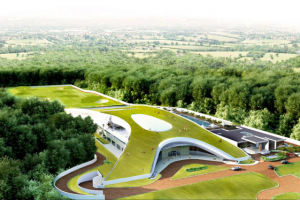 Part of the Stejarii Country Club Complex, situated in Baneasa, in the heart of a forest, on a 22.000 meters square land. Stejarii Country Club perfectly combines social and business networking with sports, Wellbeing and entertainment activities.
The Driving Range has 20 seats practice stands for long shots, 8 slots for picthing, and a putting green and a PGA TPI Golf Instructor, Mr. Santiago Munoz, reunites more than 160 members yearly, and over 2000 persons that come for group lesson in a season.
Individual all you can hit program: 20 euro/ person. Private Golf lesson is 45 euro/person/hour.

How to arrive at Stejarii Golf Driving Range, 14 A Jandarmeriei Street, 1st District, Bucharest: from Baneasa Airport: 10 minutes drive and from Bucharest city center: 30 minutes drive
To book your event, private or group lesson, please contact our Golf & Events Golf Manager, Alexandra Popescu, e-mail: golfmanager@stejariigolfdrivingrange.ro;  Tel: 0040733359202
.
Golf Club Paul Tomiță
The only golf player from Romania to ever participate to the world golf championships was Paul Tomita; therefor the name of the course is not coincidental. Opened in 1995, this golf course is the first 18 holes from Romania. It's location being Pianu de Jos-County Alba Iulia, with easy acces from Alba Iulia City, Sibiu and Deva.
Game fee: 150 lei for 18 holes ( 35 Euro ) 
Info: office@golfclubpaultomita.ro – 0040750990200
Web: http://golfclubpaultomita.ro
What to visit: 
Corvin Castle, also known as Hunyadi Castle. It is one of the largest castles in Europe and figures in a top  of seven wonders  of Romania.The construction began at the orders of Ian de Hunedoara in 1446 and it is located at 70 km drive from the golf course.
Sarmizegetusa Regia was the capital and the most important military, religious and political centre of the Dacians prior to the wars with the Roman Empire.
Sibiu is one of the most important cultural centres of Romania and was designated the European Capital of Culture for the year 2007. Formerly the centre of the Transylvanian Saxons, the old city of Sibiu was ranked as "Europe's 8th-most idyllic place to live" by Forbes in 2008.
Citadel Alba Carolina, between the 18th and 19th centuries the fortress has served as the military center of Transylvania and also as general armament dump. The perimeter of the walls is about 12 km; 20.000 serves built the walls.
.
SUN GARDEN GOLF & SPA RESORT
Is the first course from the investment point of view from Cluj also is considered to be the best attended golf course in Romania. Not coincidentally their stated purpose on their webside is' to create a new destination for the worldwide golf players'. The 9 holes are ranked between PAR 3 and PAR 5 a total of 2211 metters. In addition to the golf course they also have a restaurant, a ballroom, a hotel and a swimming pool. Green fee is 220 lei for 18 holes (50 euro). Contact: office@sungardenresort.ro www.sungardenresort.ro
..
Transilvania Golf Club
This course located in Sanpaul Village 30km distance from Cluj-Napoca City, has a spectacular landscape with hills, valleys and dark green forests. From all its 18 holes only the first 9 of them are being used ( TGC front nine).
Greenfee: 25 euro/18 holes
Contact: www.transilvaniagolf.ro
..
Cluj Driving Range 
The driving range is situated right in the city at only 2 kilometres from Cluj downtown. It's also known as GolfLab Academy and the owner is Mircea Stoica, one of the best golf teacher from Romania.
Contact: 0040722432835
.
What to visit:
Cluj Napoca, located in northwestern Romania, is the unofficial capital of the Transylvania region. It's home to universities, vibrant nightlife and landmarks dating to Saxon and Hungarian rule. Surrounding its central square, Piața Unirii, is the Gothic-style St. Michael's Church and a dramatic statue of the 15th-century king Matthias Corvinus. The baroque-era Bánffy Palace is now a museum showcasing Romanian art.
Turda Salt Mine a real museum of salt mining in Transylvania – the deposit of salt formations from the Transilvanian plateau took place in middle Bandenian-Wielician.The absolute age attributed to the salt deposits from Transylvania is 13.6-13.4 million years.
UNTOLD Festival 3 – 6 august 2017 is an electronic music festival held in Cluj-Napoca, Romania. Taking place across various locations in the city, including the impressive 30,000 seater Cluj Arena stadium and the nearby Polyvalent Hall. The festival brings in around 300,000 music fans across the four days.
Sighisoara is a UNESCO World Heritage Site from 1999 and one of
the most beautiful places in the country. The small town in central Transylvania is an endlessly fascinating and charming destination although the real attraction is the medieval architecture.
Accomodation in Cluj-Napoca:
SunGarden Resort; Grand Hotel Italia Cluj;
..
Golf Club Timișoara

Situated 25 km from Timisoara City was the first golf course from the west side of the country. This course has a driving range and 9 rather long tracks, 2 X PAR 3, 5 X PAR 4 and 2 X PAR 5. After going twice round the 9 holes we have a total of PAR 72 and a distance of 6354 metters for men and 5526 metters for women. 
Greenfee: M-T 25 euro ; F-S for 18 holes 35 euro.
What to visit:
Timisoara, the largest city in western Romania, has been influenced by many cultures. The Romans used it as an important crossroads fortress until the Tatars destroyed it in the 13th century. Timisoara was the first European city to introduce horse-drawn trams (in 1869) and electrical street lighting (in 1889).

Recas winery has focused mainly on modern dry wines – being one
of the trend setters in post 1989 Romania with this approach. At its best, Cramele Recas wineries pride on producing Solo Quinta, one of the most distinctive premium white wines in the country.
Kings Land Country Club
Is one of the latest opened in Romania and the original project was designed for 9 holes. Then the owner decided afterwards to only open 6. Two of them are PAR3 and the rest of the holes are PAR 4. No further than 25km from Oradea you may find this resort that next to the golf course. It helds 3 fishing lakes/ponds and nautic activities, horse riding, restaurant, ballroom and an airfield/airpark. Green-fee: M-T 25 euro; F-S 30 euro for 18 holes 
Contact: www.kingslandineu.com
What to Visit: 
Oradea city is nestled among hills that divide and unify the Crișana Plains and the hill-like limits of the Apuseni Mountains in a harmonious way. Located on the Crișul Repede River which divides the city into almost equal halves, it is the gateway to Central Europe and Western Europe. From february 2012, Oradea is a member of the Art Nouveau cities network, an initiative of the Brussels Region Monuments and Sites Department. http://oradea.travel/en/
.
Bears' Cave in Chişcău, Bihor county, was accidentally discovered in 1975. After local mining exploitations, the opening towards the underground grotto was dynamited. Traian Curta, a local miner, was the first one to be lowered into this cave, managing to go through the gallery until the Great Hall of the cave.
Accomodation in Oradea: 
Ramada Hotel Oradea; DoubleTree By Hilton Oradea; 
That's all for today,
If you want to play golf in Romania & need assistance do not hesitate to contact me at office@golfinromania.com  Facebook  Linkedin  Twitter  Instagram  blog  www.golfinromania.com
Călin Păcurar – golf blogger

Please follow and like us: